Reply to the Following Comment:
Jet's Pizza has become famous for, above anything else, their signature deep-dish square pizza. It is this style of pizza, and the way it is exclusively prepared, that differentiates Jet's Pizza from any other pizzeria on the planet. Jet's Pizza only uses the highest quality ingredients; they have built their business, their reputation, and their taste on keeping it that way. Jet's is more than just great pizza. Try their other menu items like Jet's Wings, Jet's Bread with Bacon, subs, and more!
More information and Specs
$10 general certificate. One per order. Good toward all menu items. No cash back. Not good toward tip or gratuity. Entire certificate must be used at time of purchase. Good at St. Cloud location only. (320) 230-5387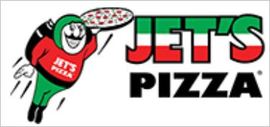 Additional Terms and Conditions
Standard terms and conditions apply. Please visit our Terms of Service Page for more details.