Reply to the Following Comment:
The E-Cig Emporium isn't just your average e-cig shop. They are a family run business whose members are formers smokers themselves. E-Cigs have been great for them in their efforts to stop smoking, and they want to share their story with others who may also want to quit… or others who just want to "vape!" They also offer custom juice blending, something most of the other stores don't do. Located in Copper Courte, across the street from K-Mart and kitty corner from Cash Wise in St. Cloud. Check them out on Facebook!
More information and Specs
$15 general certificate. Good toward e-cig hardware, batteries, tanks..anything in the store except for premium liquids. Limit one per visit. No cash back.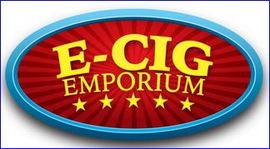 Additional Terms and Conditions
Standard terms and conditions apply. Please visit our Terms of Service Page for more details.